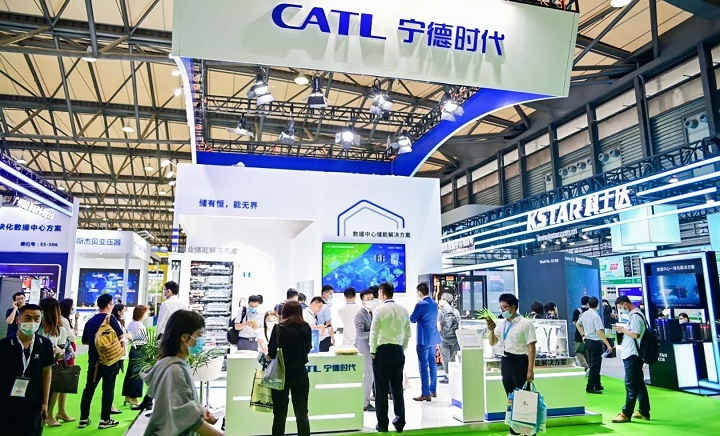 Contemporary Amperex Technology Co. Ltd. (CATL) presented all-scenario energy storage solutions at the 2nd China Data Center Renewable Energy Technology Summit held in Shanghai from June 17 to June 19.
The UPS lithium-ion battery rack showcased by CATL is committed to providing uninterruptible and standby power supplies for special application scenarios such as data centers, thereby ensuring the continuous operation of electric equipment. The battery system of the UPS lithium-ion battery rack features high safety, high reliability, and high agility. It is equipped with lithium iron phosphate cells, which feature high thermal stability and are certified to international safety standards; moreover, because its temperature will not rise significantly, it is capable of meeting the requirements for normal system operation without the use of conventional external cooling methods. The battery system is also compatible with a wide range of voltage and capacity, and can quickly respond to customers' different needs.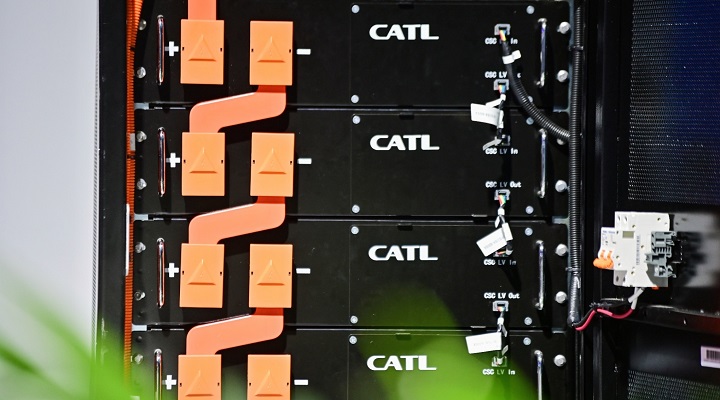 UPS lithium-ion battery rack
Data centers are one of the seven key areas of "new infrastructure" in China. As digital hubs in the digital economic era, data centers are experiencing a new round of development. Under China's goal to peak carbon emissions by 2030 and achieve carbon neutrality by 2060, how to develop in a low-carbon and green manner has become a hot topic concerning data centers, which are regarded as a higher energy consumption and carbon emissions sector. The CATL data center energy storage renewable power application system is a powerful implementation of energy storage + data center solutions. It is an exploration of how to achieve carbon neutrality for data centers, and also an important step towards building safe and environmentally friendly data centers.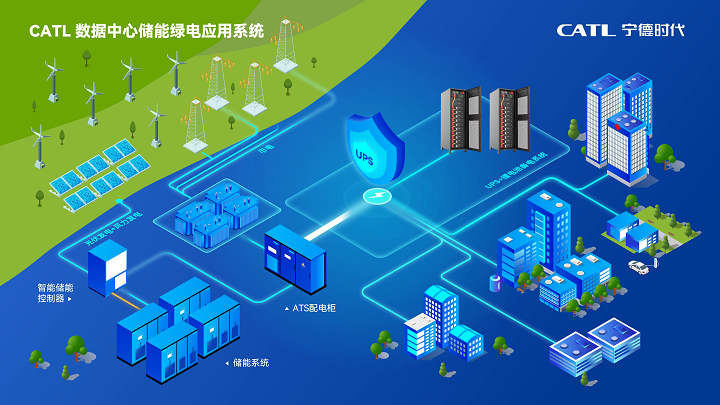 Schematic diagram of CATL data center energy storage renewable power application system
In addition to its data center energy storage products, CATL also exhibited outdoor liquid cooling racks, its intelligent BESS charging station solution, and products for a residential energy storage base station, fully covering the scenarios of energy storage during power consumption, as well as industrial and commercial energy storage, residential energy storage and microgrid application. All these products show CATL multi-directional layout and technical strength in energy storage during power consumption.
CATL is committed to achieving the goal of realizing fossil fuel replacement in stationary and mobile energy systems with highly efficient electrical power systems that are generated through advanced batteries and renewable energy, and promoting the integrated innovation of market applications with electrification and intelligentization. As a global leader in lithium-ion battery development and manufacturing, CATL will continue to strive to develop renewable energy-oriented power systems driven by innovation, thus contributing to the goal of peaking carbon emissions and achieving carbon neutrality.