Excerpts of a speech by Dr. Robin Zeng, Chairman of CATL, at the 2020 World New Energy Vehicle Congress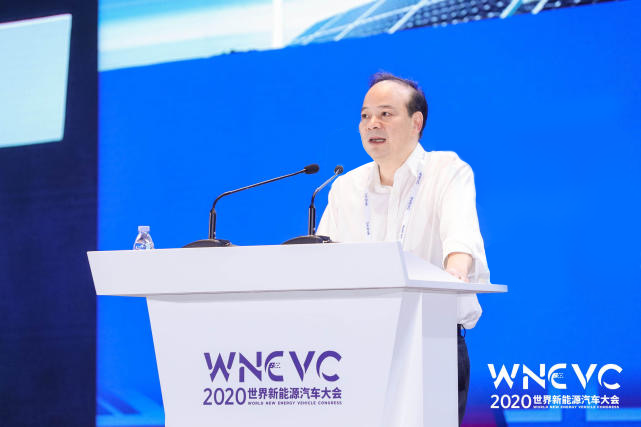 Distinguished Vice President Wan Gang, leaders, guests, ladies and gentlemen, good morning!
It is my great honor to attend the World New Energy Vehicle Congress today. I have titled my speech, "Technological Innovation and Industrial Coordination Drive the Sustainable and Healthy Development of the New Energy Vehicle Industry." It mainly covers three aspects: embracing changes, technological innovation and industrial coordination.
I. Embracing changes and seizing significant industrial opportunities
Nowadays, the climate problem facing mankind remains serious, and global warming caused by energy consumption is becoming increasingly severe. The global average temperature has risen by over 1.2 °C, which is an endogenous factor driving the rapid development of the industry.
Under the influence of this consensus, global automotive enterprises are increasingly motivated to the transition to new energy vehicles, and the electrification of vehicles has accelerated significantly in recent years. We estimate that the global sales of new energy passenger vehicles will reach 12 million in 2025 and that the Compound growth rate of the global sales of new energy vehicles will reach 32% in 2019 to 2025.
Globally, there are five driving factors for electrification:
In terms of the national energy strategy, energy security forces energy transformation. From the government perspective, the emissions regulations of many countries are gradually tightening, which makes it increasingly difficult for traditional fuel vehicles to reach the standards. From the enterprise perspective, major automotive enterprises worldwide have advanced their electrification strategies. Formerly engaged in developing platforms for both fuel vehicles and electric vehicles, they are now more committed to developing exclusive platforms for pure electric vehicles. From the user perspective, electrification is increasingly recognized by consumers, and driverless cars bring them unprecedented driving pleasure. From the infrastructure perspective, charging piles and other supporting facilities have been gradually improved, with a constantly rising degree of intelligence and increasingly convenient energy replenishment. Infrastructure is becoming a guarantee supporting the development of new energy vehicles.
The acceleration of full electrification worldwide has brought the industry a greater advantage, namely that the cost is optimizing year by year. The first purchases of some vehicle models will be able to be made at a fair price without a subsidy by 2023, for all models by 2025. We are considering other business models such as the separation of vehicles and batteries and battery leasing. It will be easy to apply such models to commercial vehicles, and I believe there will be various business models being applied in the future.
II. Technological innovation lays a solid foundation for industrial transformation
CATL adheres to three development directions.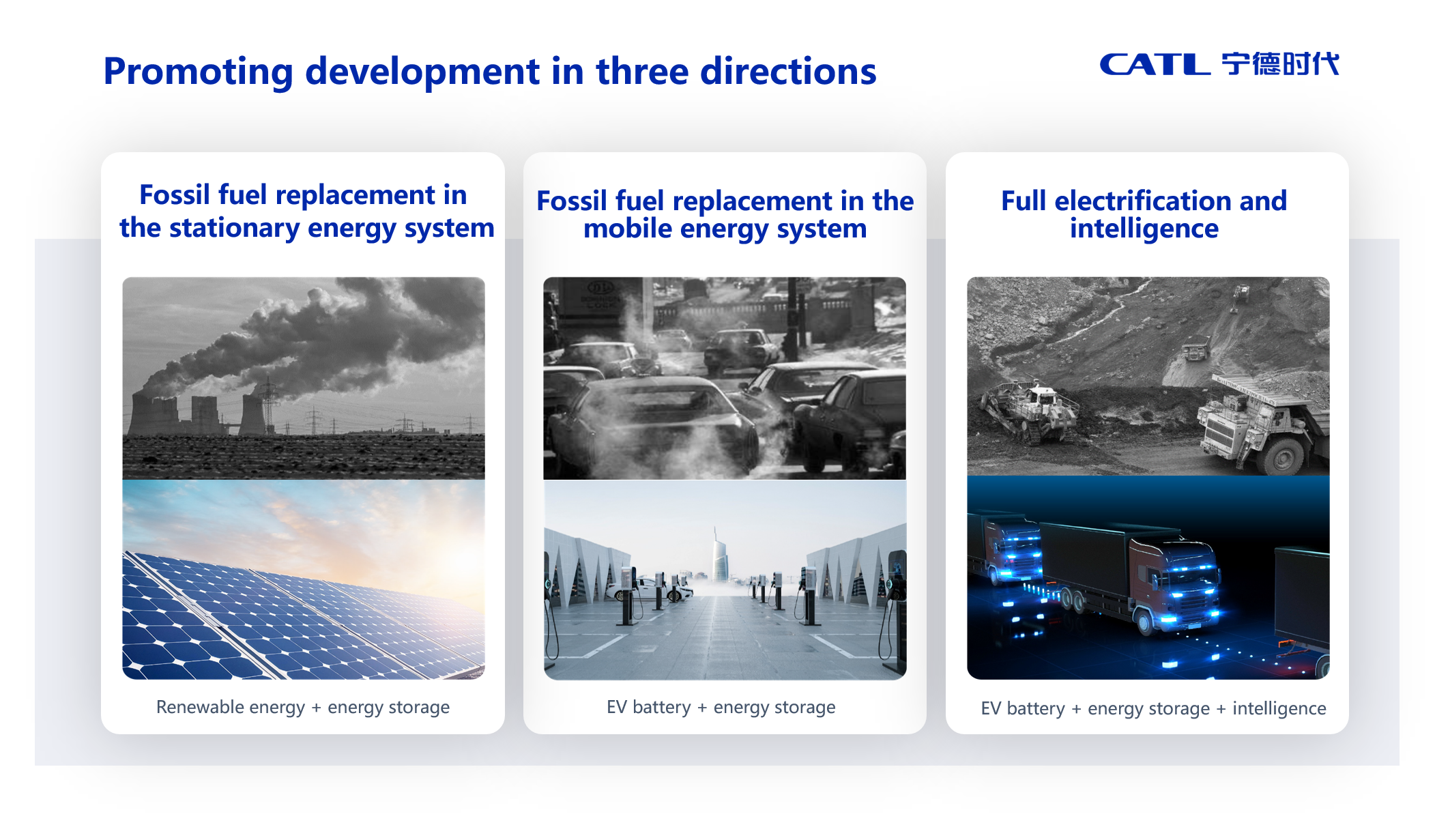 The first is the substitution of stationary fossil energy for energy generation, namely replacing coal with efficient power systems powered by advanced batteries and such renewable energies as wind energy, solar energy and hydro energy. Power generation by solar energy and power batteries can replace fossil fuels in areas where photovoltaic power generation can last for 2,000 hours.
The second is the substitution of mobile fossil energy. We will adopt energy storage devices and power batteries to completely wean ourselves off oil.
The third is the development of application scenarios. We will apply "electrification plus intelligence" to various application and scenarios, thereby providing all sectors with sustainable, available and reliable energy sources. For example, we have launched EnerMagic- the electric intelligent unmanned mining solution to achieve the unmanned operation and overall electrification of mines.
This breakthrough depended on our core competency: innovation. After years of accumulation, CATL has gradually formed four major innovation systems: material system innovation, system structure innovation, intelligent manufacturing innovation and business model innovation.
In order to achieve these innovations, we keep enhancing our basic skills and exercising our imaginations. In order to forge a world-class R&D platform, we recently established the new innovation laboratory 21C Lab with an R&D investment of RMB 33 billion and an estimated staff of more than 1,000 people in five years. You are very welcome to join us. 
Through innovation and R&D, we are continually improving the performance and advantages of power batteries in terms of mileage, charging, low temperature, hedging, cost and safety. Both high nickel and silicon negative electrodes and CTP (Cell to Pack)have been mass-produced.
We hope to master the core technologies for the full performance of power batteries, namely high safety, high-energy density, automatic temperature control, super-fast charging, long service life and intelligent management.
CATL also hopes to strengthen cooperation in the industry chain and expand the application of lithium batteries through business model innovation in the future. As battery leasing is a high-quality asset, we have achieved business model innovation by developing batteries that can last for 2 million kilometres/ 16 years. Many operating companies operate vehicles for several years or rent them to consumers, then bring the vehicles back and give the battery packs to energy storage and charging stations, and finally recycle the batteries. Such a company can make multiple profits from a single battery.
III. Industrial coordination for agglomeration forces industrial transformation
If electric vehicles adopt non-regeneration energy, it will be a meaningless substitution for fossil energy. A Nobel Laureate in Chemistry has said that lithium batteries make it possible to replace fossil fuels with renewable energy, which is the way to change the world. With the convergence of the energy revolution and transportation revolution, advances in renewable energy, advanced energy storage, pure electric drive, 5G communication, artificial intelligence and other cutting-edge technologies have driven the trillion-dollar emerging market.
In the future, electric vehicle batteries will serve as an auxiliary means of energy storage. They can not only help with the adoption and storage of renewable energy, but also reduce the cost of batteries. The world's leading energy network with Chinese characteristics can eventually be built by managing electric vehicle power batteries and electrochemical energy storage power stations via blockchain.
Guided by networking, intelligentization, electrification and sharing, we will live in an E-mobility society in 2030, when the energy flow will be unimpeded and clean energy will be ubiquitous. There will soon be unmanned mines and wharves. We are also working on the electrification of underground coal mines, eliminating the need for workers.
The mission of CATL is: Rooted in Chinese culture while embracing global culture, striving to be a premier global innovative technology corporation, deliver excellent contribution to green energy resolution for mankind.