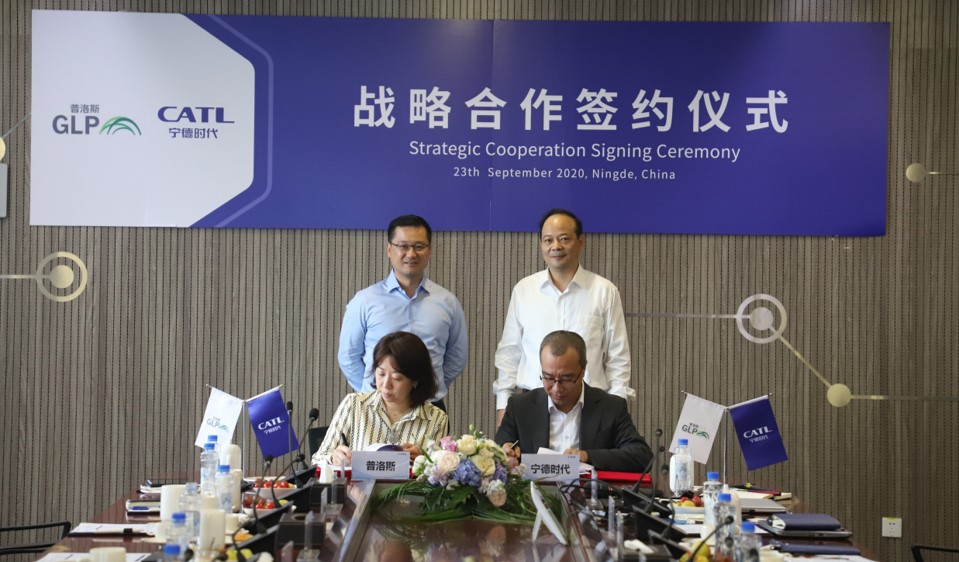 On September 23, 2020, Contemporary Amperex Technology Co. Limited (CATL) inked a cooperation agreement with investment management and business innovation company GLP to set up a joint-venture(JV)asset management firm relying on the leading advantages in their respective industries. 
The JV combines the respective leading advantages to promote the application of new energy through the service of green energy assets.
Based on the advanced technology and integrated supply chain of CATL, as well as CATL's global layout and excellent asset management, the JV will innovate to apply renewable energy to industry and commerce to promote better facilities, products and services.
Moreover, the JV will thoroughly explore the scenario application of combined electrification and intelligence and be devoted to the new logistics and commercial layout of electrified self-driving transportation.
The JV will hold, manage and operate CATL's cells and energy storage systems, lowering the threshold for the use of new energies on a large scale for logistics and transport companies by turning new energy assets into services, in order to promote them and expand their application.
Han Wei, president of CATL's commercial business unit, Zheng Shu, chief financial officer of CATL, and Zhuge Wenjing, executive vice chairman of GLP China Holdings, signed a strategic cooperation framework agreement and a memorandum on the JV. Dr. Robin Zeng, CATL's founder, chairman and CEO, and Mei Zhiming, GLP's co-founder and CEO, were present during the signing.
Under the framework of the JV, the two sides will carry out a series of cooperation. Relying on the leading technological advantages and industrial chain integration capabilities of CATL, as well as GLP's global layout and robust asset management capabilities, the two sides will work together to create new green electric intelligent supply chain hub facilities, driverless main lines, urban distribution networks and vehicle equipment with GLP ecological enterprises. They will also further promote the green, intelligent, and intensive development of logistics warehousing, transportation and distribution. 
Dr. Robin Zeng, founder and chairman of CATL said: "We are delighted to establish a new strategic cooperative relationship with GLP, which will promote the future development of CATL and GLP. GLP is the world's leading investment institution, a leader in the intelligent logistics industry and invests a lot in the application of new energy. Combined with the capabilities and resources of power batteries from CATL, the two companies will further expand new areas of green energy application and accelerate the green upgrading of the supply chain."
 "GLP is committed to investing in innovative new technologies that can transform and modernize industries. Partnering with CATL will extend our asset-as-a-service model to green energy asset management and accelerate the replacement of traditional energy with green energy, bringing the logistics and transportation industry into a new and greener era. Renewable energy is part of GLP's strategy to enhance asset values and provide technology and services to help customers improve the efficiency of their operations. "said Mei, co-founder and CEO of GLP.