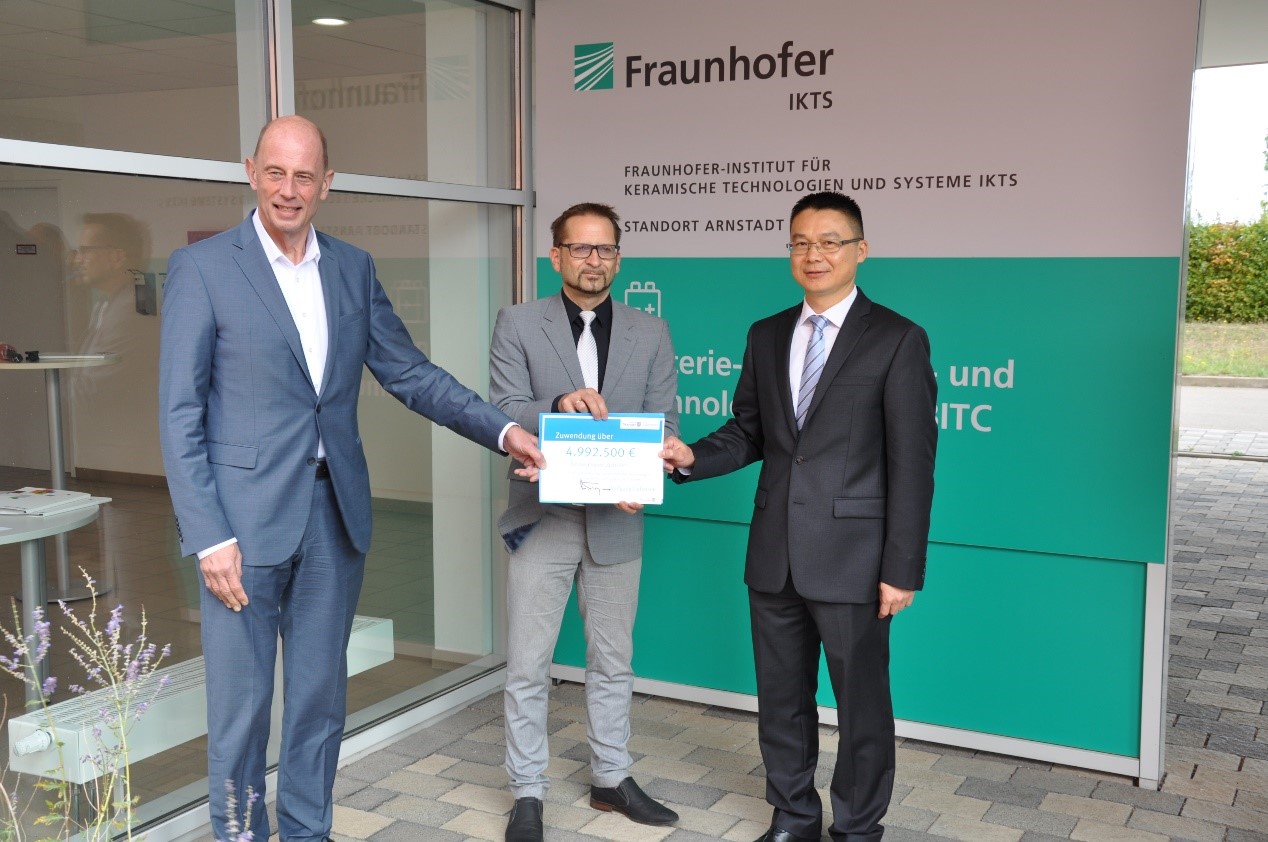 Wolfgang Tiefensee (left), Minister of Economy and Science of Thuringia, Roland Weidl (middle), head of BITC, and Jason Chen(right), general manager of CATL Europe operations attend the launching ceremony of the "BattLife" project
CATT(Contemporary Amperex Technology Thuringia GmbH), CATL(Contemporary Amperex Technology Co. Limited)'s subsidiary, joined "BattLife," a project started by the newly founded Battery Innovation and Technology Center BITC at Erfurter Kreuz. "BattLife" is developing new approaches to batteries' life cycle and reliability analysis, and its achievements will be applied in production to achieve the integration of industry and research.
As a branch of the Fraunhofer Institute for Ceramic Technologies and Systems IKTS, one of the largest battery research institutes in Germany, BITC is responsible for the project, which develops system solutions for the networked, digitally supported production and quality assurance of battery cells and modules. As "BattLife" project's first industrial partner, CATT will capture high-quality battery data with the Big Data Model by BITC to analyze the battery life cycle and jointly explore cutting-edge battery innovation technologies. The research results will be directly applied to the production of CATT batteries. CATT will promote battery technology innovation with BITC, thus helping the German state of Thuringia become a battery hub in Europe and even the world, and contribute to Germany's green future.
"In addition to a good charging infrastructure, the service life of batteries is one of the most important prerequisites for making electromobility fit for the future," said Economy and Science Minister Wolfgang Tiefensee. "BattLife" thus makes an important contribution to the sustainable development of car batteries. The project also represents the beginning of an exemplary symbiosis of research and industry, for which the state has made enormous efforts in the last three years. 
"Our goal was not only to bring CATL to Thuringia, but also to contribute to research right from the start in order to expand activities in the field of battery and energy storage technology and thus develop Thuringia into a leading battery hub," said Tiefensee.  
The person in charge of CATT said: "E-mobility is becoming more and more popular. As a member of the German industry, CATT will become integrated into the German scientific research and industry, and provide competitive new energy solutions for customers in Germany and worldwide through its advantages."