Speech by Dr. Robin Zeng,founder and chairman of CATL
at the Fifth International Summit on Power Battery Application(CBIS2020)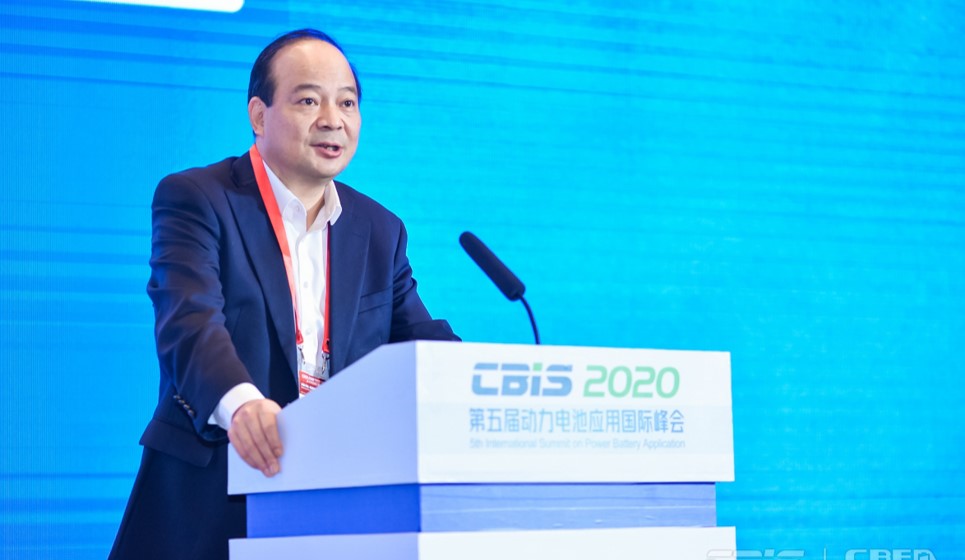 Distinguished fellow guests, experts, ladies and gentlemen:
Good morning!
Welcome to the Fifth International Summit on Power Battery Application in Ningde. It is an honor for CATL to be the co-organizer of this grand event in our industry. On behalf of CATL, I would like to extend my warm congratulations on the holding of the summit and sincere welcome to all the guests who have come from afar.
Seizing the opportunity to optimize the energy structure
Since the beginning of this year, the ravaging COVID-19 pandemic and its rebounds across the globe have had a significant impact on the development of human society. Against this backdrop, it is expected to see a rising awareness of climate change, environmental protection and sustainable development. At the 75th session of the United Nation General Assembly, President Xi Jinping delivered an important speech, reiterating the Chinese government's solemn commitment to the world: China aims to peak carbon emissions before 2030 and achieve carbon neutrality before 2060. To this end, building an electricity-centric, renewable energy-based energy landscape and an automotive industry ecology with electrification as the mainstay is the only road.
In the third quarter, the domestic market for new energy vehicles picked up significantly, with private consumers accounting for a significantly higher proportion, and end-users moving from skepticism to acceptance, and further to recognition, praise and purchase. Not long ago, the State Council executive meeting adopted the "New Energy Vehicle Industry Development Plan (2021-2035)". As an essential program for the next 15 years to lead the industry's development, the Plan has further clarified the industrial development goals and safeguard measures. Outside China, more progress has also been made. The EU put forward a 750 billion euro recovery plan for Europe, focusing on cultivating a low-carbon economy. European countries such as Germany and France have offered much higher purchase subsidies for new energy vehicles. As a result, sales of new energy passenger vehicles in this region increased by 78% over the past eight months starting from January. 
In terms of power generation, 2019 has witnessed a double breakthrough in China's installed wind power capacity and PV capacity, each exceeding 200 million kilowatts for the first time. In particular, the cumulative installed PV capacity reached 204 million kilowatts, an increase of 17.3% year-on-year. Currently, with the "14th Five-Year Energy Plan" under preparation, new types of operation and new opportunities will emerge. Among them, mixed strategies such as "PV + energy storage" and "wind + energy storage" will be natural choices to solve the inherent intermittency and volatility of renewable energy and lift the constraints on its widespread development.
Taking the initiative for change and embracing smart electric vehicle technology
To embrace the transformation of energy and transportation, CATL continues to make breakthroughs in its three application markets.
The first move is to rely on traction batteries and new energy vehicles to get rid of the dependence on fossil fuels, namely oil, in mobile energy storage systems. Another move is to rely on lithium-ion battery storage power stations and renewable power generation to free us from the dependence on fossil fuels, that is thermal power, in stationary energy storage systems. Our last move is to promote the integration of electrification and intelligence in various application areas and scenarios, from construction to machinery, to mining and vessels, so as to provide a green, safe and economic development mode for all sectors. A case in point is the electric intelligent unmanned mine application scenario we have developed with our partners.
Despite the clear direction and trend towards electrification, intelligence and low-carbonization, the accomplishment of this goal will not come naturally. Instead, it still depends on research and development, innovation and technological breakthroughs. CATL will continue to increase investment in R&D and strive to build four major innovation systems, namely, material innovation, system structure innovation, intelligent manufacturing innovation and business model innovation.
Overcoming safety challenges through innovation 
Here, I would like to talk about our industry's safety concerns and introduce what we have done and achieved in this regard. With increased car ownership, the intensity of use and service life, and the number of safety incidents such as the spontaneous combustion of new energy vehicles have increased in the past two years, causing widespread concern. CATL has always placed product safety at the core of its development, continuously strengthening its technological research efforts and pursuing a balanced development of higher performance and better safety.
In terms of chemical systems, we have, through atomic-level innovation, developed highly stable cathode materials and very safe electrolytes. As a result, the high-temperature boundary of the battery has been increased by 40°C and therefore significantly improved its thermal stability.
In terms of the cell structure, we have designed highly integrated and robust anti-internal short-circuit electrodes, which can prevent the cells from catching fire and emitting smoke during various abuse tests. In terms of battery pack design, we have quantified and analyzed the damage to the cells when different elastic deformation and plastic deformation occur in the outer shell under external force, so as to optimize the strength of the battery pack structure.
In terms of battery thermal management, based on the physical and chemical characteristics of the battery, we can precisely control the temperature, voltage, current and other safety boundaries to ensure that the battery works within a safe and comfortable zone. We have also improved the monitoring model to identify safety risks immediately and provide a timely warning.
In terms of system thermal propagation, we have used aviation-grade heat-resistant materials and directional thermal conductivity technology, which could prevent heat from spreading and incidents of fire even in the case of a single cell thermal runaway.
This year, the new national standard for traction batteries is in line with the UN global technical regulations, which require that the thermal propagation time of the system should not be less than five minutes, which is crucial for improving safety and ensuring personnel escape. However, for CATL, meeting the threshold standard is simply not enough. We have set the bar higher in the design and development of the 811 NMC battery system, which could easily pass the thermal propagation test. Instead of meeting a minimum requirement of five minutes, our battery system will never catch fire.
Therefore, we should have full confidence in the potential of technological innovation. President Xi Jinping once said,(quote) "Against the backdrop of international competition, only those who innovate can make progress, grow stronger and prevail."(end of quote) The safety challenges of new energy vehicles can be well solved through scientific breakthroughs and technological advancements.
As the popular saying goes, "Even mountains and seas cannot distance people with common aspirations." Today, our meeting in Ningde for a common cause represents a rare opportunity for us to enjoy in-depth exchanges, build consensus and promote cooperation. CATL is willing to work with all of our colleagues to continue to uphold the new development concept of innovation, coordination, greenness, openness and sharing, and seize the historical opportunity of the new round of technological revolution and industrial transformation. In this way, we can join forces to promote the sustainable development of the global new energy industry, and make our due contribution to achieving the goals of the Paris Agreement and building a better home for humanity.
In closing, I hope this summit will be a great success and wish everyone good health and an enjoyable stay in Ningde.
Thank you!