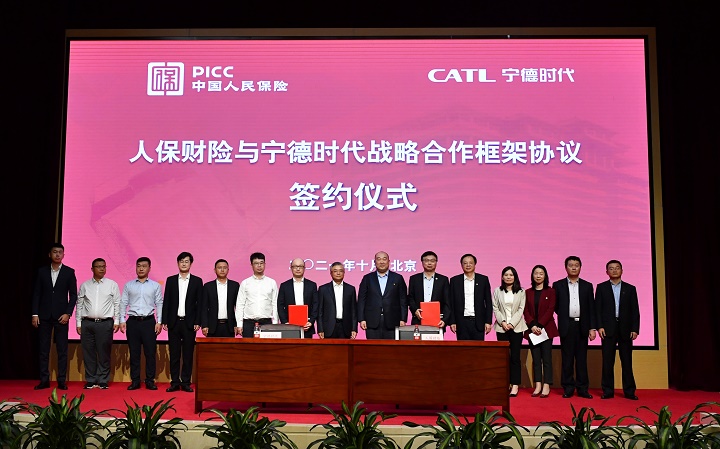 Beijing, China, Oct. 12 - On October 12, CATL and PICC Property and Casualty Company Limited (PICC P&C) held a strategic cooperation framework agreement signing ceremony in Beijing. Zhang Kai, director of the after-market business department of CATL, and Bi Xin, general manager of the claims department of PICC P&C, signed the agreement on behalf of both parties. Li Ping, vice chairman of CATL, and Yu Ze, president of PICC P&C, witnessed the signing.
Li Ping said: "The new platform for cooperation and development, which was developed under the strategic partnership between CATL and PICC P&C, will help the two parties to establish deep cooperation on industrial standards promotion, business development, business model innovation, data sharing operation, etc., so as to develop high-quality products and service to achieve new leaps in the strategic developments of both parties."
Yu Ze said: "As leaders in our respective industries, we hope that through our strategic cooperation, we will further establish a partnership on multiple levels and in multiple areas to improve the overall operational efficiency, reduce operating costs, leverage the development of new energy vehicles, power batteries and related insurance products and improve the customer experience of new energy vehicles, thus jointly developing the new energy vehicle market and facilitating the development of national new energy vehicle strategy."
According to the agreement, the cooperation between the two parties will focus on the aftermarket of new energy vehicles, form competiveness with efficient coordination, promote the technological advancement of new energy vehicles, and help to achieve the goals of emission peak and carbon neutrality.