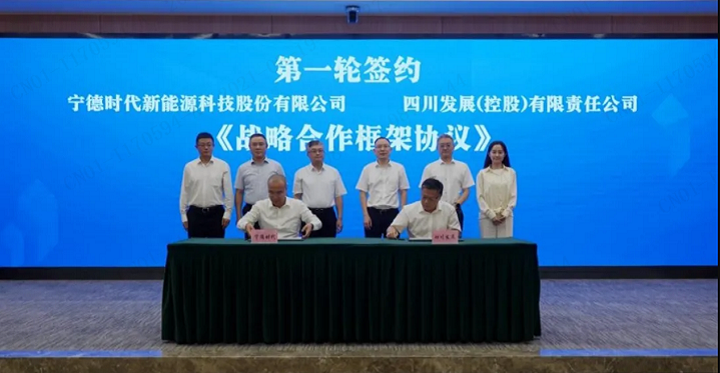 On August 18, Contemporary Amperex Technology Co., Ltd. (CATL) and Sichuan Development Holding Co., Ltd. (SDH) held a ceremony for signing a strategic cooperation agreement in Chengdu, Sichuan Province. Li Ping, vice chairman of CATL, Li Wenqing, secretary of the party committee and chairman of SDH, Zhang Yigang, vice secretary of the party committee, vice chairman and general manager of SDH, and Liu Jia, vice secretary of the party committee and director of SDH, attended and witnessed the signing. Li Lingna, vice general manager of SDH, chaired the signing ceremony.
According to the agreement, CATL will strengthen cooperation with SDH and six holding companies, and both parties will work together to build a new pattern of mutual complementarity and win-win cooperation in the fields of energy storage, battery charging and swapping facilities, aviation power research and development, upstream material integration, intelligent mining, spare parts supply and commercial vehicle electrification.
Li Ping said that SDH has a wide business layout and strong comprehensive strength. CATL has worked hard in the field of new energy for many years, and has ranked No.1 globally in EV battery consumption volume for four consecutive years. Both sides complement each other, have consistently promoted the strategic goal of a Sichuan with zero emissions and have broad prospects for cooperation.
CATL highly values the development of strategic cooperation with Sichuan, hoping that both parties will take this signing as an opportunity to jointly develop in the new energy industry and make every effort to help Sichuan build a net-zero industrial cluster, so as to contribute to Sichuan's high-quality leapfrog development.
Li Wenqing said it is of great significance to sign the "1+6" strategic cooperation agreement, as it is not only a practical initiative for both parties to explore innovative solutions in the fields of new materials, new energy batteries, new energy commercial vehicles, intelligent mining, and environmental protection, but also a strategic choice for CATL to expand its business in Sichuan and provide strong support for SDH to build its future industrial layout.
"I hope that both sides continue to deepen and expand cooperation and establish a communication and cooperation mechanism so as to ensure that the strategic cooperation is implemented and achieves better effects, and to fulfill the goal of peaking carbon emissions and achieving carbon neutrality, promoting the economic and social development of Sichuan," Li Wenqing said.
At the signing ceremony, Han Wei, president of CATL commercial application business, and Guo Yong, member of SDH party committee and SDH board member, signed the strategic cooperation framework agreement on behalf of both parties respectively. The leaders of Sichuan Development Mining Group Co., Ltd. and Sichuan Eco-Environmental Protection Industry Group Co., Ltd., Sichuan Development of Assets and Investment Management Co., Ltd., Sichuan Shengtian New Energy Development Co., Ltd., Sichuan Development International Holding Company, Ltd., and Chengdu Guibao Science and Technology Co., Ltd. also signed cooperation agreements with the representatives of CATL respectively.