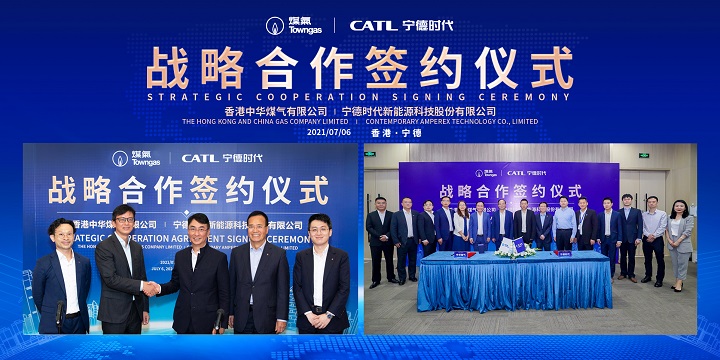 NINGDE/HONG KONG (CHINA) – On July 6, Contemporary Amperex Technology Co., Ltd. (CATL) and The Hong Kong and China Gas Company Ltd. (Towngas) held a strategic cooperation cloud-signing ceremony in Ningde and Hong Kong.
According to the agreement, the two parties will cooperate in the fields of Internet of Energy, energy storage solutions, energy storage business model innovation, battery technology cooperation, semiconductor chips and equity investment and others, to jointly promote the transformation of the industry towards zero-carbon emissions.
At the signing ceremony, both parties also announced they would establish a joint venture company. Using the advantages of both sides, it is going to be established as an energy technology innovation company providing advanced energy storage technologies, integrated services, integrated smart energy solutions and project operations in the future.
Robin Zeng, chairman of CATL, said: "We are very happy to establish this strategic cooperation with Towngas. In the future, CATL and Towngas will carry out in-depth cooperation in industrial and commercial energy storage, supply chain innovation, green energy transformation towards zero-carbon emissions and other fields, and jointly take innovation as the primary driving force. I believe that our cooperation will create more opportunities in the context of peaking carbon emissions and achieving carbon neutrality."
Peter Lee, chairman of Towngas, said: "The cooperation between Towngas and CATL will not only strengthen our advantages, but also create more business miracles through the joint efforts of both parties. I firmly believe that our cooperation on resources, technologies, application scenarios and talents will promote the green transformation of the industry and contribute to a zero-carbon society."
CATL and Towngas have reached a consensus on the following execution of the strategic cooperation agreement. According to the agreement, both parties will innovate and optimize energy storage system integration, operation and data analysis technologies based on their respective advantages, promote the sustainable development of clean energy, and jointly invest in the zero-carbon smart industrial parks of Towngas through various forms of capital cooperation, so as to promote the research and development of advanced energy storage technologies and large-scale application and contribute to the transformation of the energy structure of society.