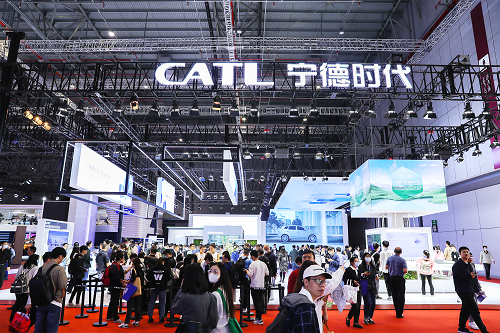 On April 18, CATL made its first appearance with cutting-edge technologies and all-scenario solutions at the 20th Shanghai International Automobile Industry Exhibition (Auto Shanghai). It unveiled its carbon neutral plan and condensed batteries, and announced the cooperation with OEMs on new products including 4C fast charging Qilin battery and sodium-ion battery during the show, further demonstrating its innovative capabilities and achievements in the new energy industry.

Disruptive innovation opens up the era of comprehensive electrification
On April 19, CATL launched condensed battery, a cutting-edge battery technology at Auto Shanghai. With an energy density of up to 500 Wh/kg, it can achieve high energy density and high level of safety at the same time in a creative manner, creating a brand-new electrification scenario of passenger aircrafts. What is more, CATL can achieve mass production of condensed battery for EVs in a short period of time. As the most attention-grabbing battery technology launched at the show, the condensed battery will promote the electrification and intelligent development of passenger aircrafts, thus opening up more possibilities for the development of the industry.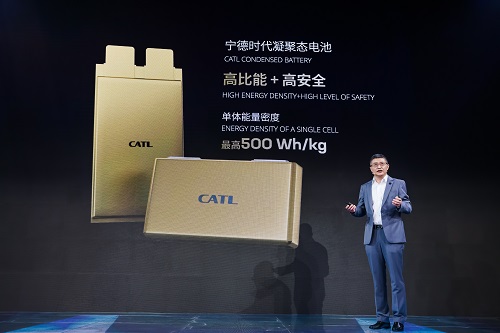 To address the changes of the super high energy density materials resulting from electrochemical reactions, CATL's condensed battery leverages highly conductive biomimetic condensed state electrolytes to construct a micron-level self-adaptive net structure that can adjust the interactive forces among the chains, thus improving the conductive performance of the cells and in turn the efficiency of lithium ion transporting while boosting stability of the microstructure.
Meanwhile, condensed battery integrates a range of innovative technologies, including the ultra-high energy density cathode materials, innovative anode materials, separators, and manufacturing processes, offering excellent charge and discharge performance as well as good safety performance.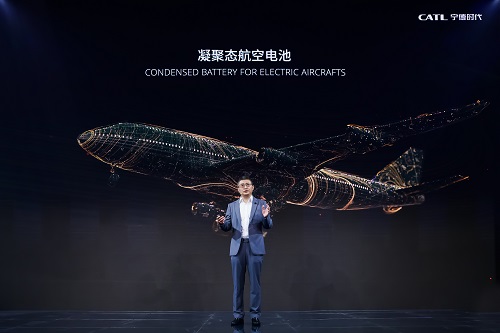 At present, CATL is cooperating with partners in the development of electric passenger aircrafts and practicing aviation-level standards and testing in accordance with aviation-grade safety and quality requirements. In addition, it will also roll out the automotive-grade condensed batteries, which are expected to be put into mass production within this year, demonstrating CATL's capability to rapidly transform technology from the lab to the market.

Advanced battery technologies to power multiple models
"Meeting customers' needs is the core driving force for our technological innovation," said Wu Kai, Chief Scientist of CATL. During the auto show, CATL's advanced technologies including sodium-ion batteries and Qilin batteries have been launched on the latest models of multiple OEM partners, providing optimized solutions for customers with various technologies, and enabling consumers to enjoy sustainable driving experience.
On April 16, CATL's first volume of mass-produced sodium-ion batteries were announced to power Chery EV models. Breaking the bottleneck of limited raw materials, the sodium-ion battery features excellent thermal stability, good performance in low temperature, and high level of integration efficiency. Sodium-ion and lithium-ion batteries can be complementary so as to provide the market and customers with a variety of cost-effective solutions, making for a popular choice for the mass market.
On April 18, CATL signed a comprehensive strategic cooperation agreement with Li Auto, and the two companies announced that Li Auto's first BEV model will be the first to carry CATL's 4C Qilin batteries. With its excellent performance, the innovative Qilin battery can boost significantly the product competitiveness of high-end vehicle models. Supported by CATL's 4C fast charging Qilin batteries and Li Auto's 800V high-voltage fast charging BEV solution, the new model of Li Auto improves energy efficiency while increasing charging speed, enabling fast charging speed and longer range in most driving scenarios.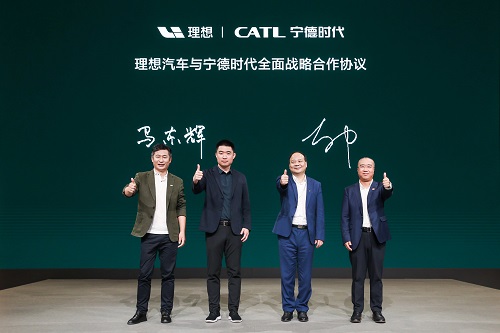 Carbon neutrality ambition bring about new opportunities
As the world translates global consensus into global action in sustainable development, CATL announced its carbon neutrality plan at this year's Auto Shanghai. It pledges to achieve carbon neutrality in its core operations by 2025 and across the battery value chain by 2035.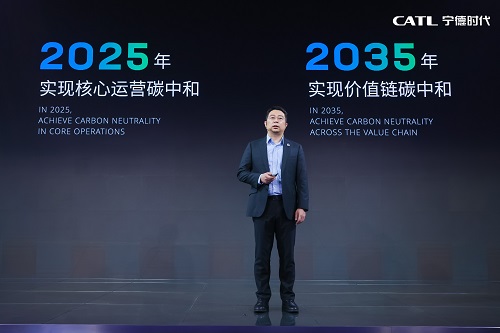 This means that by 2025, all of CATL's battery factories will become carbon neutral, achieving carbon neutrality first in the manufacturing sector. By 2035, all of the batteries produced by CATL will become carbon neutral, achieving carbon neutrality across the entire value chain from mineral resources to finished batteries.
"For CATL, achieving carbon neutrality is our responsibility, demonstrates our capability, and opens up more opportunities," said Jiang Li, CATL Board Secretary. The sales volume of CATL's lithium-ion batteries soared to 289 GWh in 2022, and it held 37% and 43.4% in the global market share of EV battery and energy storage battery shipment respectively. Therefore, CATL's carbon neutrality plan is of the largest scale in the lithium-ion battery industry. CATL will also release its carbon neutrality white paper, showcasing its approaches and action plans to achieve carbon neutrality, aiming to become the first leading battery company to achieve carbon neutrality globally.
CATL showcases its phased achievements in innovation in four dimensions, namely material and electrochemistry system, structure system, extreme manufacturing and business model, including a range of products and solutions such as the lithium-ion cell family, sodium-ion battery, 12 Volt battery, 48 Volt battery, AB battery pack, Qilin battery and powertrain domain controller pack as well as all-scenario solutions centering on electrification and intelligent development such as EVOGO battery blocks and battery swapping stations, demonstrating its R&D strengths and all-round strategic planning. Together for better, CATL aspires to contribute more to the high-quality development of the new energy industry together with its customers.