On December 4, 2019, Contemporary Amperex Technology Co. Limited (CATL) held an award ceremony for the outstanding information security team in Ningde, China, after it had passed TISAX's highest information security level review.

CATL, the first Chinese lithium-ion battery company, officially passed the TISAX (Trusted Information Security Assessment Exchange) assessment in March 2019. TISAX represents the highest standard of information security by the European Automobile Manufacturers' Association. CATL's German subsidiary also passed the assessment in August.
TISAX is the automotive industry information security assessment standard jointly introduced by the German Automotive Industry Association (VDA) and the European Automotive Industry Information Exchange Platform (ENX) in 2017. To date, TISAX has been adopted by many well-known European automotive manufacturers such as Volkswagen, BMW, Porsche, and Daimler, gradually becoming one of the important market access conditions for them to choose suppliers.
In order to achieve comprehensive information security management, CATL has set up a professional information security team, aiming to align itself with international standards and also ensuring internal implementation. The TISAX assessment proves that the information security management of CATL has reached a new level by providing a good information security environment for better serving customers domestically and abroad.
Hu Saixiong (Vice President and Member of Security Committee, CATL), Chen Ling (Chief Information Officer, CATL), Dr. Chen Weikang (Vice President of Industrial Services and Information Security Business Group, TüV Rheinland Greater China), and Zheng Ping (Vice President of Management System Certification and Accreditation, TüV Rheinland Greater China) attended the event and jointly witnessed the major achievements of CATL in information security management.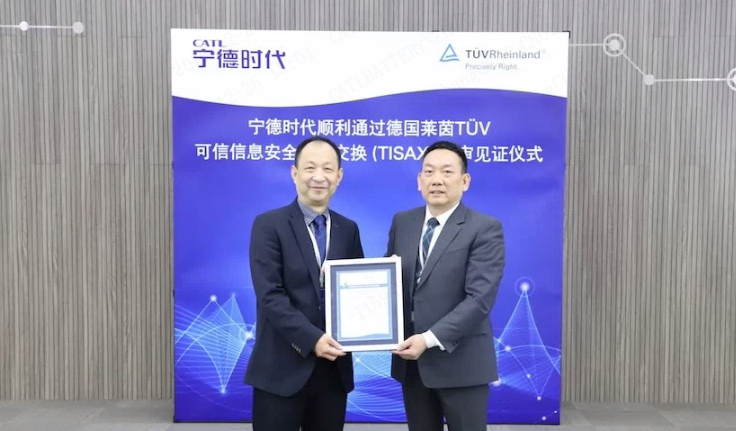 Dr. Chen Weikang (left) presents Hu Saixiong (right) the certificate showing that CATL has passed the TISAX assessment
Hu Saixiong mentioned in his speech that CATL has always been customer-oriented, as demonstrated in all management domains including information security. "TISAX is a language used by CATL to communicate with our customers. Successfully passing the TISAX evaluation means that CATL and its customers will establish a deeper trust and relationship; it'll help CATL to better develop its management system and business. In order to achieve rapid development in the future, we have to make continuous technological innovation based on a high level of information security and management improvement to create value for customers and provide more reliable security for customers' information assets," he said.
Meanwhile, Dr. Chen Weikang said in his speech: "Information security is becoming one of the key success factors for the automotive industry in the intelligent manufacturing and digitalization era. As a world-leading manufacturer of lithium-ion batteries for electronic vehicles and energy storage, CATL's passing the TISAX assessment shows that it has established a scientific and effective information security management system which is in line with international standards and suitable for the automotive industry. It represents CATL's protection of its customers' key information assets in accordance with the highest requirements of the European automotive industry, to ensure customer information's confidentiality, availability and completeness."
About TüV Rheinland
TüV Rheinland is the world's leading third-party technical service provider. It has a history of more than 100 years in the field of certification and service in the automotive industry, and has also accumulated rich experience in information security.
As one of the few TISAX-authorized assessment agencies in the world, TüV Rheinland has already carried out many TISAX assessment projects around the world. Under both TISAX and ISO 27001 authorizations, TüV Rheinland is committed to the information security management of the automotive industry chain, responding to information security risks, and assisting relevant enterprises to achieve risk management and emergency prevention through professional services. In the future, CATL will engage in more in-depth cooperation with TüV Rheinland in supplier information security management.