On June 12th, 2019, China's leading battery system provider, Contemporary Amperex Technology Co. Limited (CATL), along with Chinese mobility service company Hellobike and inclusive finance service platform Ant Financial, held a strategic cooperation conference in Shanghai at which they announced the establishment of a joint venture with a total investment of RMB 1 billion involving the initiation of battery-swapping services for two-wheeled electric vehicles.
The three parties will integrate their superior resources and capabilities in industrial depth, offline operation and online access to build a comprehensive two-wheeler ecosystem, and provide green, intelligent and safe battery-swapping services for two-wheeled electric vehicle users.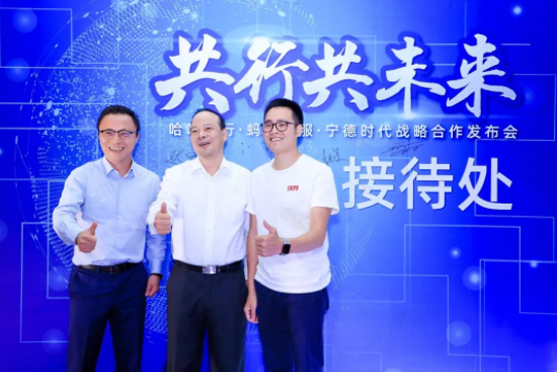 In this revolutionary cooperative project, CATL will provide cutting-edge electricity-based solutions for two-wheeled electric vehicles by relying on the world's leading lithium battery technology; Hellobike will open up its existing battery-swapping capacity and give full play to its established comprehensive offline urban network and efficient operation capability; and Ant Financial will provide all-round support for the battery-swapping services, including the platform entrance, user traffic and business system. Together, the three parties will create a new model for smart travel.
The composite system consists of an intelligent lithium battery, intelligent battery-swapping cabinet and integrated intelligent background management system. It can be applied to daily commuting, urban business logistics, campus travel, scenic area travel, etc.
As two-wheeled vehicles enter a new era of electrification, intelligentization and lightweight development, with its deep understanding of the market demand, CATL has customized special power batteries for two-wheeled vehicles, and will continuously iterate and upgrade the system according to the accumulation and analysis of travel data, thereby providing better battery products for two-wheeled vehicles. 
The latest CATL product will have a separate brand name and a lifespan comparable to that of a battery for a four-wheeled vehicle. It weighs only a quarter as much as a traditional lead-acid battery, redefining batteries for two-wheeled vehicles with a younger, safer and greener image.