Successful Delivery of "DA WAN QU YIHAO" Diesel-Electric Hybrid Cruise Ship Equipped with CATL Power Battery System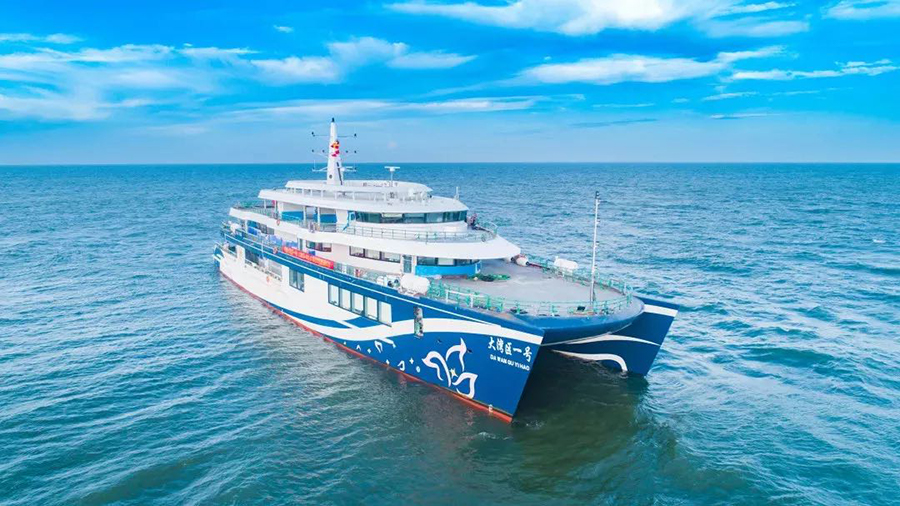 On August 14th, 2020, the handover ceremony of DA WAN QU #1, China's first gasoline-electric hybrid twin-hull luxury cruise ship, was held at Haimen Base of China Merchants Industry Holdings.
The cruise ship is equipped with a direct current (DC) electrical propulsion system which was jointly developed by CRRC, China Merchants Group and CATL with full independent intellectual property rights. It adopts a hybrid mode of lithium batteries and a diesel engine, and is equipped with a CATL 2,520 kWh power battery system.
DA WAN QU #1 was constructed in eight months and completed successfully with the full support of the China Classification Society. DA WAN QU #1 will celebrate the 40th anniversary of the establishment of the Shenzhen Special Economic Zone with green and surging power in August 2020.
DAWAN QU #1 has a length of 71.95 meter, a width of 18.72 meter, a designed draft of 2.57 meter, a seating capacity of 350 passengers, a service speed of 14 knots and a full load displacement of 1,350 tons. The cruise ship is equipped with sightseeing and other leisure and entertainment areas, and the new hybrid power mode enables the ship to meet the standards of ultra-low emissions, pollution and noise.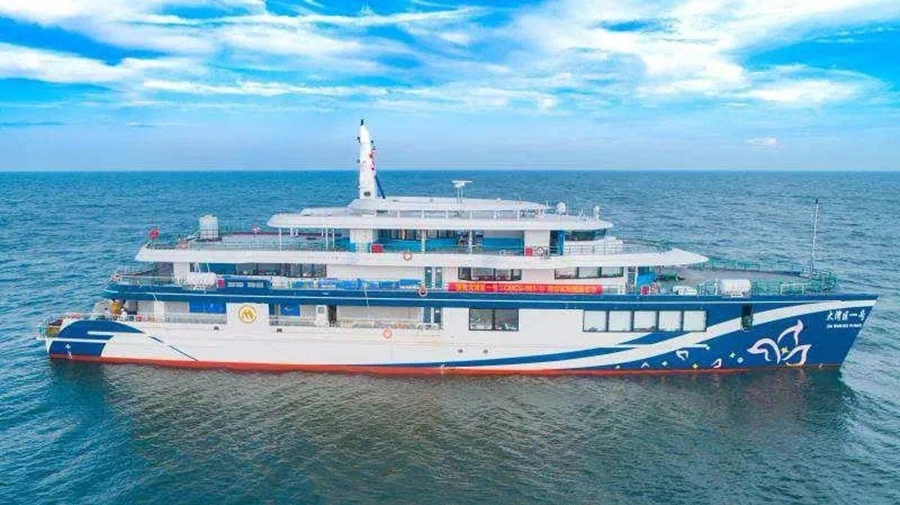 The batteries of DA WAN QU #1 are installed in battery compartments on both sides of the bow bottom. The battery compartments each contain a battery system and adopt advanced cell-to-pack (CTP) no-module technology. There are 144 high-energy density battery packs in the whole ship with a total power of 2,520 kWh, equivalent to the power of 200 hybrid cars. In addition, the battery compartments are equipped with air conditioners to maintain a temperature of 25±2℃, the optimal operating temperature for the batteries.
Enjoying the electric system
The DA WAN QU #1 cruise ship will  travel among Shenzhen, Hong Kong and Macao. It is expected to travel three times a day with each voyage lasting four hours. The 40-minute pure electric operation mode will be enabled to provide tourists with a quiet and comfortable sightseeing experience. Charging systems are set at both ends of Shenzhen Bay to ensure steady, pure electric cruising.
Safe and reliable
With marine power batteries, high safety is the most important concern. The batteries must not be affected by dampness or vibrations so as to ensure the normal operation of the ship.
From cells to systems, CATL can ensure the safety and reliability of its products in an all-round way with multi-layer monitoring and alarm functions. The battery pack design fulfills IP67 requirements which can effectively avoid safety risks caused by water vapor, salt and dust. In addition, the battery packs feature extremely hard steel, which meet the relevant regulations of the China Classification Society and have passed safety tests including vibrations, mechanical impact, simulated collision, fire and so on.
A pioneer in emission reduction 
Ships equipped with diesel engine power systems generate large amounts of oily water, harmful gas and particles during navigation and arrival at port. They cause severe noise pollution and have a serious impact on the ecological environment of water areas.
It is estimated that the use of hybrid cruise ships will achieve an annual emission reduction of about 8 tons carbon monoxide, of about 10 tons nitrogen oxide and of about 0.2 tons inhalable particles, significantly benefiting the environment.
Electric ships have been mainly applied in inland lakes, inland rivers and offshore ports. In terms of application, ships can be divided into vehicle-passenger ferries, passenger ships, harbor tugs, harbor boats and maritime ships.
In inland rivers and lakes, CATL has provided power batteries for many pure electric cruise ships and public service vessels in the Yangtze River Basin, Suzhou inland waterway and inland lakes in Xinjiang.
In January 2019, CATL signed a strategic cooperation agreement with the Wuhan Rules & Research Institute of the China Classification Society in Fujian. The signing of this agreement clarifies that both sides will carry out strategic cooperation on promoting research in technical standards for ships with battery systems and their application in water areas, and accelerating the approval and inspection of related battery products. Both sides have reached a consensus on further strengthening their all-round cooperation and exchanges in resource-sharing, technical cooperation and service upgrading.
In April 2020, CATL became China's first power battery company to be inspected and approved in accordance with the Guidelines for the Testing of Battery Electric Ships, the latest testing guidelines issued by the China Classification Society. The launch of "Deep Sea 01" marks the official application of CATL's battery systems in sea areas.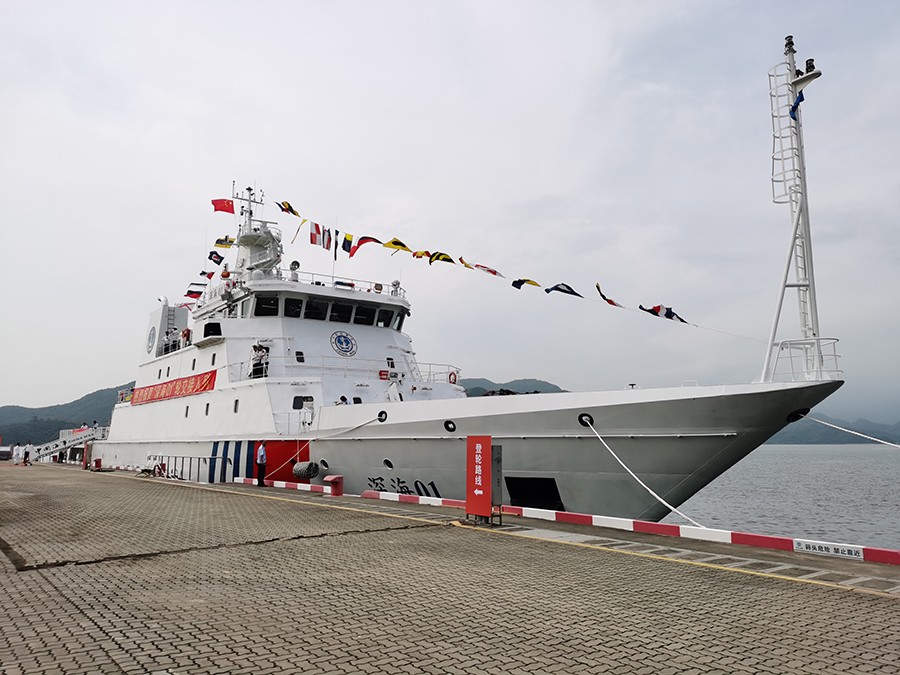 Deep Sea 01 in Shenzhen's coastal waters
In the near future, CATL will become involved in more maritime projects; for example, it will provide green power for the Yangtze River Cruise carrying more than 1,000 passengers, Pearl River Cruise carrying 350 passengers, Minjiang River Cruise, China's first intelligent container freighter, China's first pure electric inland public service vessel, scientific expedition vessels in the polar regions, luxury cruise ships and fishing vessels. CATL will boost the arrival of the era of true electric ships.