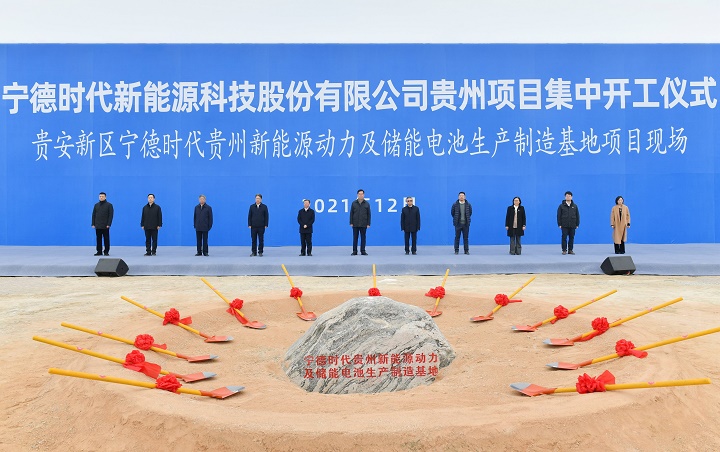 On December 24, the groundbreaking ceremony of CATL Guizhou projects was held at CATL Guizhou New Energy Power and Energy Storage Battery Manufacturing Base, Gui'an New District, southwest China's Guizhu Province.
Located at the junction between Gui'an Avenue and Baima Avenue, the phase I of CATL Guizhou New Energy Power and Energy Storage Battery manufacturing base is planned to have an annual production capacity of 30 GWh, covering an area of 885 mu (59 hectares). The total land area of the manufacturing base is about 1,435 mu (around 95.7 hectares).
In addition, the groundbreaking ceremonies of LiPF6, LPF and other cooperation projects between CATL and Guizhou Phosphate Chemical Group were held in Kaiyang County, Xifeng County and Fuquan at the same time.
By taking Guiyang as an important base, CATL will give full play to its advantages as an industrial leader and work with all parties to build a green industrial chain system with low carbon emissions from upstream phosphate mining, phosphorus and fluorine chemicals production, to lithium-ion battery manufacturing, downstream applications and battery recycling, thus helping Guizhou build a new energy automobile industry ecosystem with distinctive characteristics and outstanding advantages.