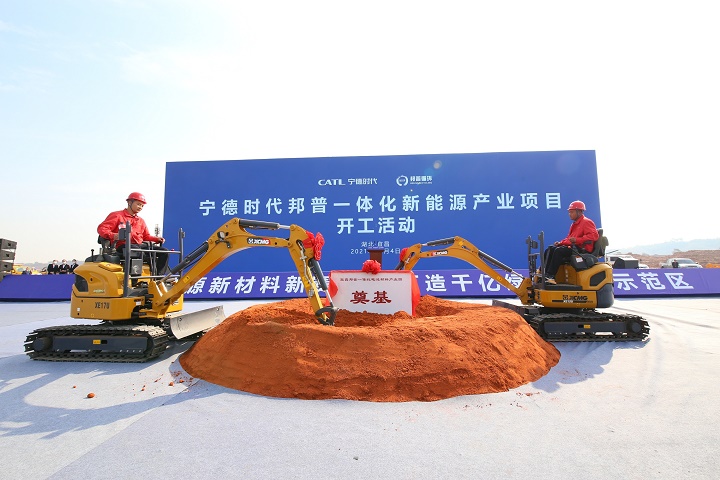 On December 4, the groundbreaking ceremony of the CATL-BRUNP Integrated New Energy Industry Project was officially held in Baiyang Industrial Park in Yichang Hi-tech Industry Development Zone.
Li Ping, vice chairman of CATL, said: "The CATL-BRUNP Integrated New Energy Industry Project is a key element of the CATL's global footprint and upstream resource security. By integrating the core resources and capabilities of CATL, we will strive to build the Yichang production base into a world-leading, sustainable and smart production base, driving the industrial chain to gather and develop in Yichang and Hubei, and providing strong support for building the 100-billion-yuan-level green and low-carbon demonstration park in Yichang and the one-trillion-yuan-level modern automobile industrial cluster in Hubei."
Li Changdong, chairman and president of Brunp, said: "Brunp will go all out to promote the construction and efficiency, quickly complete the project and put it into production, and strive to build an intelligent, modern, low-carbon and sustainable model industrial park, helping Yichang to develop and expand new energy battery material clusters, promote the transformation of local fine chemicals industry to new energy and new materials industries, and accelerate the formation of industrial clusters with strong service capabilities and wide influence."
By focusing on the cathode materials of power batteries of new energy vehicles, the project integrates phosphate ores, raw materials, precursors, cathode materials, battery recycling and other links, covering the full life cycle of batteries. With a total investment of about 32 billion yuan and covering an area of about 5,500 mu (around 366.7 hectares), the project plans to build an ultra-large-scale production base with an annual output of 360,000 tons of ferric phosphate, 220,000 tons of lithium iron phosphate, 180,000 tons of ternary precursors and materials, 40,000 tons of lithium cobalt oxide, 40,000 tons of recycled graphite and 300,000 tons of recycled batteries. It is expected that the first phase of the project will be put into production in 2023 and the whole project will be put into production in 2025. By then, it will be able to produce positive materials for more than 4 million new energy vehicles at its full capacity.