BAODING, CHINA - Contemporary Amperex Technology Co. Ltd. (CATL) and Great Wall Motor Company Ltd. (GWM) signed a 10-year strategic cooperation agreement on June 2 at HAVAL Technology Center in Baoding, Hebei Province. Zhu Wei, executive president of CATL E-Car business unit, and Cui Kai, vice president of Great Wall Motors, signed the agreement with Robin Zeng, founder and chairman of CATL and Wei Jianjun, chairman of Great Wall Motors in attendance.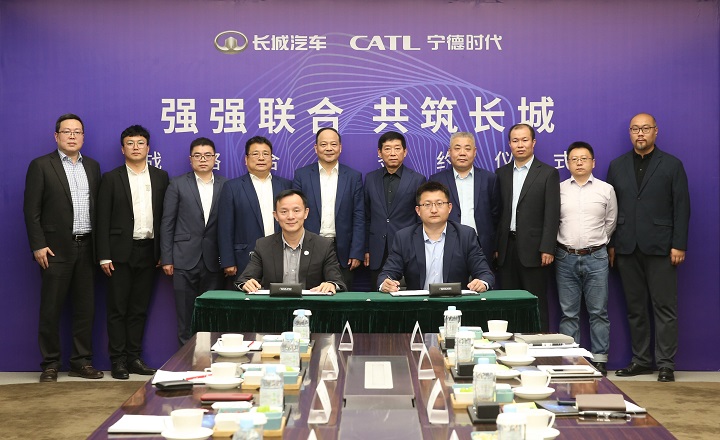 According to the agreement, CATL and GWM will bring their respective professional advantages into play during their in-depth cooperation, to enhance the linkage between supply and demand and exploit the synergy for competitive advantage, so as to promote the development of new energy vehicle technologies to accelerate the drive towards carbon neutrality. Before signing the contract, the two parties held talks and reached consensus on further promoting the implementation of the strategic cooperation agreement.
As early as 2016, CATL and GWM have engaged in joint cooperation for the development of GWM EV models. Since then, they have launched a full range of technology research and development and supply cooperation in GWM sub-brands, including Haval, WEY, and ORA. The long-term strategic cooperation is based on their close cooperative relationship over the past few years.
As a global leader in lithium-ion battery development and manufacturing, CATL is committed to achieving the goal of replacing fossil fuel in stationary and mobile energy systems with highly efficient electrical power systems that are generated through advanced batteries and renewable energy, and promoting the integrated innovation of market applications with electrification and intelligentization.
As a world-renowned SUV and pickup manufacturer, GWM is accelerating its transformation into a global leading innovative automobile company, and continues to create value for customers. In the field of new energy vehicles, GWM relies on three technology brands, namely "Lemon," "Tank," and "Coffee Intelligence" to simultaneously carry out the development of the EV types EV, HEV, and PHEV, as well as the initial development of hydrogen energy vehicles.
The technology revolution is experiencing a new chapter and industrial transformation is developing vigorously. Electrification and intelligentization have become the new trend in the automobile industry. CATL and GWM have joined forces for long-term strategic cooperation, which will help achieve mutual benefit and win-win results, enabling the effective development of the new energy automobile industry.