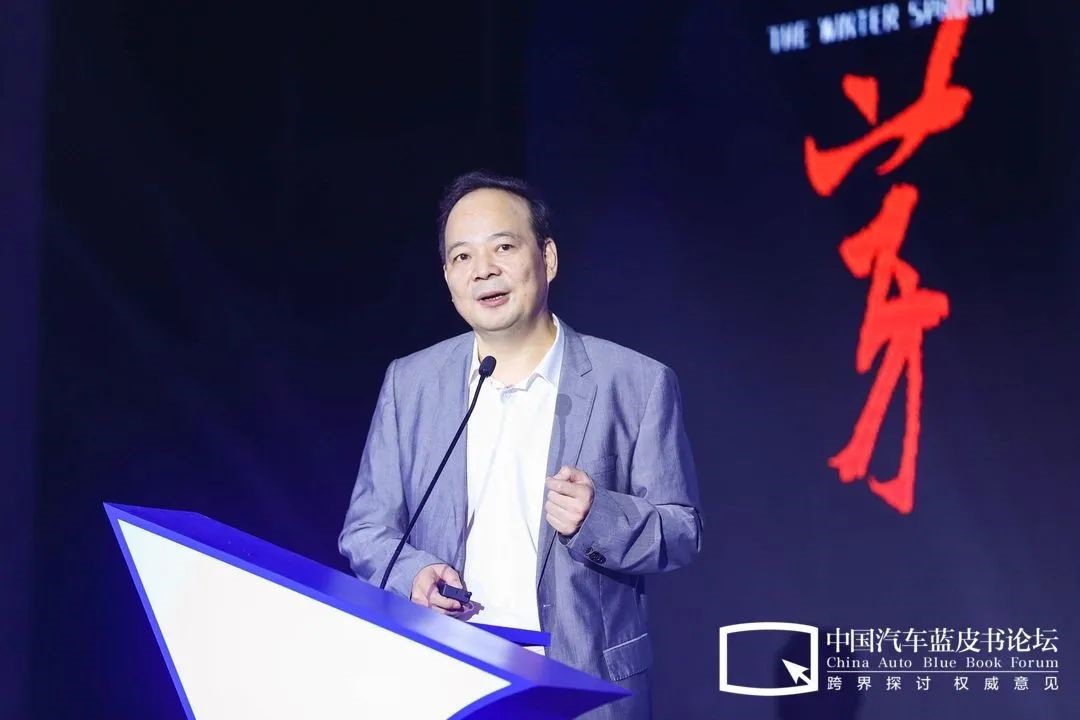 Excerpts of a speech by Dr. Robin Zeng, Chairman of CATL, at the China Auto Blue Book Forum 2020
Today, I am very honored to have the opportunity to share with you CATL's thoughts on the new energy vehicle industry, the four new modernizations in the automotive industry, and the major changes we are experiencing, the likes of which have not been seen in a century.
Our thinking is not restricted to the automotive industry, but also includes the whole new energy industry, including power generation. Even though today's new energy vehicles use batteries, electricity may still be generated from old energy sources. We hope that the electricity stored in batteries will come from renewable energy in the future.
What is the meaning of renewable energy for us human beings? If electric vehicles can become energy storage devices to support the development of renewable energy, the future revolution of electric vehicles will see an integrated and deeper development.
1. Seizing opportunity in a changing world 
As global warming is becoming a more serious problem, energy transformation is imperative. Through the introduction of the Paris Agreement, countries around the world have reached a consensus on energy transformation. In order to control the global temperature rise within 1.5 degrees, it is estimated that the proportion of renewable energy in electric energy will increase from 24% to 86% by 2050.
Driven by the energy revolution, industrial policy, automotive enterprise transformation, consumption upgrades, infrastructure improvement and many factors, the new energy vehicle industry will develop rapidly. According to forecasts, global sales of new energy passenger vehicles are expected to reach 12 million in 2025, and the compound growth rate will reach 32.5% from 2019 to 2025.
From the perspective of policy, countries including European countries and the United States have made efforts to accelerate the electric transformation. Driven by the abovementioned factors, some countries have already formulated a clear plan to ban fuel vehicles from 2025 to 2050. Japan and Germany have set their target for the year 2050, maybe even earlier.
From the perspective of supply, the goal of electrification is very clearforautomotive enterprises. All the automotiveenterprises around the world that we serve are really very enthusiastic about the development of electrification, and they are proactively moving towards that goal. 
One of the important reasons for the acceleration of comprehensive electrification in the world is that the cost of fuel vehicles and electric vehicles are now more or less on a par. By 2025, down payments for electric vehicles should be equal to those for fuel vehicles.
From the perspective of demand, consumers are increasingly becoming interested in purchasing electric vehicles. I found that many of the car manufacturers are promoting their brands, which makes me think that the improvement of consumer experience must keep up with it. A brand upgrade must be accompanied by a consumer experienceupgrade. Consumers must be willing to pay a high price to feel good.
Thanks to the new infrastructure construction being carried out by the country, the vehicle pile ratio in China will decrease year by year, while the annual compound growth rate of global charging pile infrastructure construction will reach 45.3%, so the charging issue will never be an issue in the future. Therefore, the combination of renewable energy, new energy vehicles, 5G, autonomous driving and advanced energy storage technologies can really promote the revolution of energy and transportation.
2. Technology leadership and four-dimensional innovation
CATL has been spending years on technology development to maintain its leading position. It has been 21 years since we first started our business in 1999. We have sophisticated thoughts about batteries.
We have formed four innovation dimensions: material system innovation, system structure innovation, intelligent manufacturing innovation and business model innovation.
The most important one is material innovation. In the past few years, we have designed and proposed some methods and ideas to improve NCM (Lithium Nickel Manganese Cobalt Oxide) ternary cathode materials through a high-flux computing and simulation platform, and finally introduced them into our products after material synthesis and experimental verification.
The second is system structure innovation. Whether the soft package or the hard shell is good, whether the internal structure of CTP (cell to pack) is horizontal or vertical, these questions cannot be answered without conducting professional research. Our CTP technology, which is the first mass production vehicle in the world, directly integrates the cell into the pack, saving 40% of the parts' quantity and increasing the energy density by 10-15%, while doubling the manufacturing efficiency, reducing the cost and increasing the efficiency.
In the next step, we will introduce CTC (cell to chassis), to integrate the cell and chassis as one, then integrate the motor, electronic control, vehicle high voltage such as DC/DC and OBC through innovative architecture, and optimize power distribution and reduce energy consumption through intelligent power control system. CTC will enable the cost of new energy vehicles to compete directly with that of fuel vehicles, with larger riding space and better chassis maneuverability, which is the direction of our structural innovation.
Innovation in intelligent manufacturing is also very important. It is very difficult to do a good job regarding battery safety and reliability. Intelligent manufacturing is to control low probability events. A car has 100 battery cells, and there are 100 positive and negative windings or laminations in one cell. One hundred times 100 is 10,000. This battery needs to be tested for 1,000 cycles, which amounts to 10 million. This is just for one car. For 10,000 cars, it's 100 billion. Therefore, the innovation of intelligent manufacturing is an important foundation for producing a really safe and reliable battery.
The last one is business model innovation. People say that batteries are too expensive, and that the battery market needs some new business models. In the future, we need to realize battery changing, rent and different kinds of new business models. I think these are very valuable ideas to explore. Only through new innovation can we really promote our intelligent electrification process.
In order to do better in innovation, CATL recently established a 21C innovation laboratory, with an R&D investment of 3.3 billion RMB, planning to attract more than 1,000 researchers and engineers within five years. Most of these hold master's and Ph.D. degrees. We warmly welcome talents from home and abroad to join us.
Adhering to the innovative concept of "practicing basic skills and exerting imagination," the laboratory will focus on the research and development of next-generation batteries such as metal lithium-ion batteries, all solid-state batteries and sodium-ion batteries. It will also develop an intelligent design of lithium-ion batteries and non-destructive testing technology, so as to realize the industrialization of independent innovation achievements in the laboratory within 3-5 years. We want to make full-performance batteries, that is, batteries that are truly safe, and batteries which feature a high specific energy, self-controlled temperature, super-fast charging, long life and intelligent management. These innovations will help vehicle manufacturers to make their cars better.