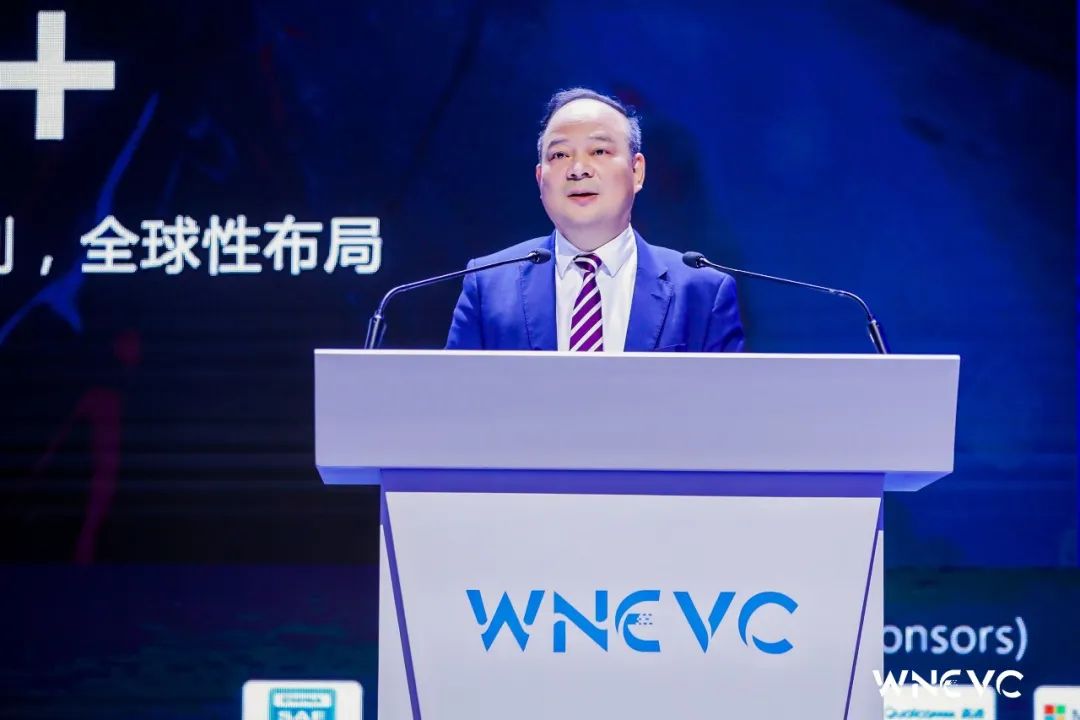 Speech by Robin Zeng, founder and chairman of CATL, at the 2022 World New Energy Vehicle Conference
For more than ten years, the new energy vehicle industry has went through its infancy to full blossom of the present day. Currently, we are accelerating steps towards a new stage of comprehensive electrification.
01 Advanced Battery Technology Is the Underlying Support for Comprehensive Electrification
A lot of countries are rolling out increasingly preferential policies, and the definite opportunity of full-scale electrification is bringing about rapid growth of the market. For five consecutive months, the penetration rate of new energy passenger cars in China has been above 25%, reaching 26.7% in July, while the penetration rate in the same period last year was less than 15%, which shows that the development of new energy vehicles is accelerating and unstoppable.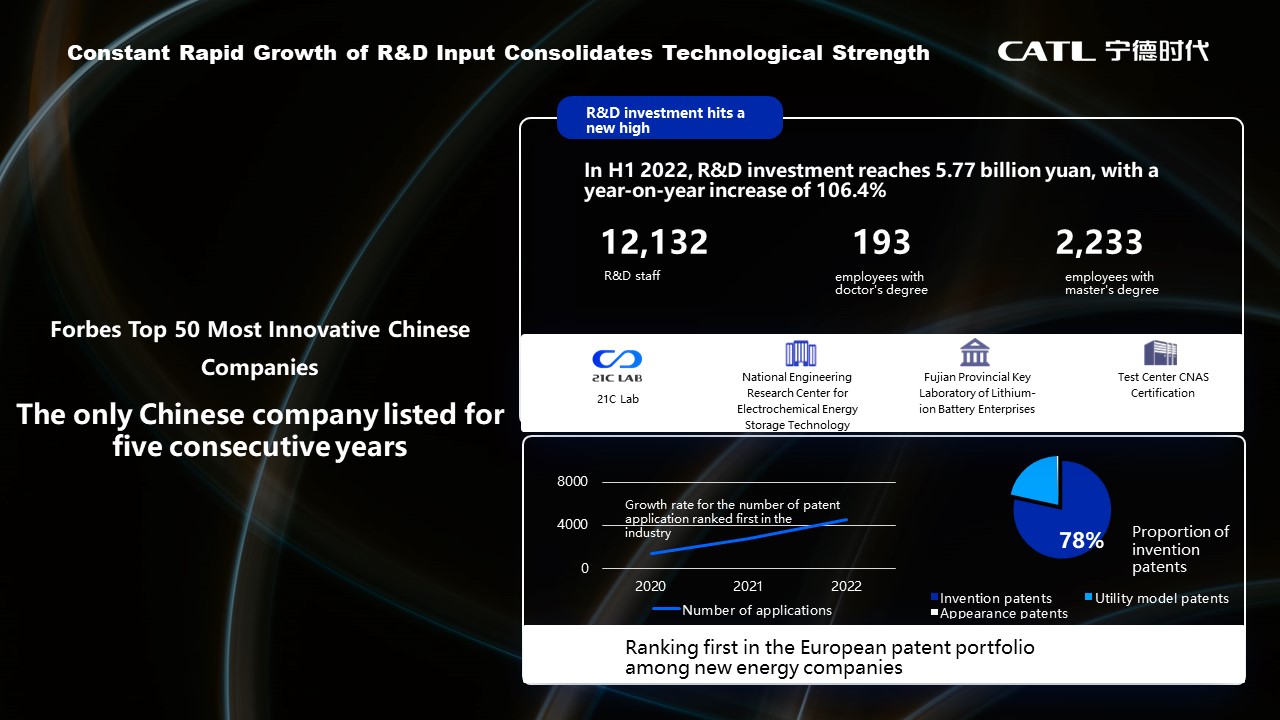 The comprehensive electrification is based on products that are of good quality, affordable, and well received by the consumers, while good products result from continuous research and development and iteration. In the first half of this year, we invested about 6 billion yuan in research and development. We have built a high-level research and development team of over12,000 members. This year, a large number of outstanding graduates in materials, electrochemistry, algorithms, big data, artificial intelligence, intelligent manufacturing and other fields will join CATL. With the guarantee of funds and talent, our patent applications have maintained the highest growth rate in the industry, which has been tripled compared with 2020, and nearly 80% of them are invention patents. We are also the only company that has entered Forbes Top 50 Most Innovative Chinese Companies for five consecutive years.
As the saying goes: A good horse deserves a good saddle. In the field of high-end electric vehicles, we have launched Qilin batteries. With an energy density of up to 255 Wh/kg, it is capable of delivering a range of over 1,000 km in a breeze. Moreover, it adopts the latest high-safety protection technology of NP2.0, our latest safety protection solution that pioneers active isolation and decoupling of high pressure and runaway flue gas. The innovative technology and excellent performance of the Qilin battery can help our customers' high-end products reach a new height. It is fair to say that only electric vehicles equipped with Qilin batteries can be regarded as high-end electric vehicles.
The key for ordinary families to choose electric vehicles is that they are affordable, durable and worry-free. For this target market, we have launched M3P batteries through material innovation, which evolve from LFP batteries but are more than LFP. The M3P battery retains the quality of high safety and long service life of LFP batteries, at the same time boasts 20% increased energy density of battery cells, which is very competitive. In the first half of this year, we launched the battery swap solution EVOGO. In this way, for the pure electric vehicle models priced at 120,000 to 140,000 yuan, consumers only need to spend 60,000 to 80,000 yuan to buy a car body through the separation of vehicle and battery, and then they can choose a variety of battery rental and battery swapping service solutions according to their needs. For a family car, battery swapping can save a considerable amount of money every month compared with refueling an oil car. For ride-hailing drivers, battery swapping can save the charging time and increase income by more than 1,000 yuan per month.
Battery technology is crucial in all aspects of power generation, transmission, distribution and use. We successfully delivered the Jinjiang 100 MWh Energy Storage Power Station Project, increased the cycle life of a single battery to 12,000 times, which has become a global benchmark. This year, we once again undertake the key research and development plan for electrochemical energy storage project. The R&D goal of the project is to increase the cycle life to 18,000, increase the scale of a single energy storage power station to 1GWh, and achieve or exceed the pumped storage level in terms of the cost per kilowatt hour and the energy storage capacity. EnerOne, CATL's trailblazing modular outdoor liquid cooling LFP BESS, won the ees AWARD this year. The integrated frequency conversion liquid cooling system helps limit the temperature difference among cells within 3℃. EnerC, the containerized liquid-cooling battery system is able to meet the requirements of various harsh climatic conditions, ensuring the safe and reliable operation of the whole system for 20 years. With our leading technologies, CATL ranked first in the world in global market share of BESS battery production in 2021,accounting for about 40% of the global market.
Comprehensive electrification also requires strong manufacturing and delivery capabilities. In terms of manufacturing, we have completed the largest 5G enterprise network with a total coverage area of over 5 million square meters in seven bases across six provinces including east China's Fujian Province and Jiangsu Province, and southwest China's Sichuan Province. We have established an extreme manufacturing system architecture by introducing seven intelligent manufacturing technologies, such as AI, digital twin, edge computing, building an ecosystem with deep interaction of multiple platforms and systems, and deep integration of industrialization and informatization. Our cells production defect rate has been improved from the PPM (part per million) level to the PPB (part per billion) level.
In terms of production capacity and delivery, we have mapped out a coordinated global production network at home and abroad. At home, we already have established 10 bases. Outside of China, our German factory has received approval for battery cell production. The module lines have been put into production, and the cell lines will start production by the end of 2022.
This year, we have announced our second European factory in Hungary with a total production capacity of 100GWh, which will start construction this year. Our new projects were well received by our customers. With the strong support of customers, our global market share has reached 34.8% in the first half of this year, hitting a new high. Here, I would like to thank global customers for their trust and support, and also assure them that we will continue to "refine" ourselves to better "enable" our customers.
So far, our batteries have been shipped to 56 countries and regions around the world, and installed in more than 5 million vehicles. One out of every three electric vehicles in the world is equipped with CATL's batteries. In order to better serve our global customers, CATL has built the world's largest after-sales service network in this field. We have established 81 service centers, 6 RDC warehouses, 4 maintenance centers, and 3 training centers in 42 countries around the world. We can provide customers with after-sales services covering the whole world, ensuring customers' global business and secure use.
02 Green Battery Drives Sustainable Development of Electrification
In the era of comprehensive electrification, batteries should be both advanced and green. According to the findings of China Automotive Technology and Research Center, pure electric vehicles can reduce the carbon emission in the fuel cycle by as much as 40%. The carbon reduction contribution of pure electric vehicles in the fuel cycle is very obvious, but at the same time batteries account for nearly 40% of the carbon emission in the vehicle cycle of BEVs. Therefore, it will be essential to reduce the carbon emission in the battery itself in the era of comprehensive electrification.
Western countries have taken the lead in initiating research on standards, policies, and regulations for the carbon footprint of EV battery. The European Battery Law, which is under discussion, clearly states that enterprises shall publicly declare the carbon footprint of their battery products by 2024, implement hierarchical management by 2026, and implement mandatory access by 2027. The Inflation Reduction Act just passed by the United States accelerates the development of the battery industry chain, and the U.S. Senate also proposes to formulate the Clean Competition Act. The carbon properties of battery products have become the next regulation focus in Europe and the United States. However, as a major battery producer in China, the research on the carbon footprint of batteries has lagged behind significantly.
Coping with climate change is the common responsibility of all mankind, and the regulation of the carbon footprint of batteries should also be based on a globally unified and internationally recognized standard. The formulation of this standard should be supported by scientific methodologies and complete databases, and the establishment of these methodologies and databases requires a large amount of actual data from the entire industry chain.
China, Japan and South Korea hold the largest battery industry clusters in the world, especially China, which has an obvious advantage in the battery supply chain, supplying the four main materials and battery products to the whole world. Therefore, China and Asia should be more active and make greater contributions in the formulation of global carbon footprint standards and regulations.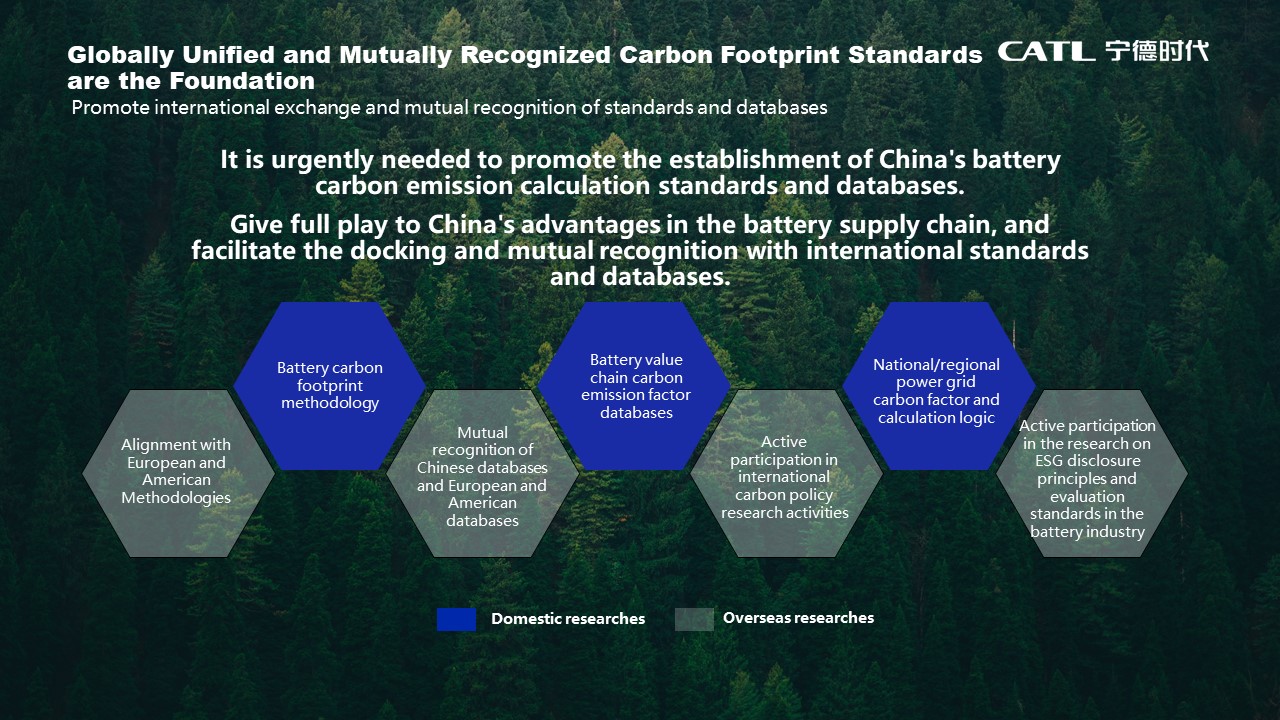 At present, due to the absence of Asia in the formulation of international carbon footprint standards, many key basic data have not been updated in time. As a result, similar battery products produced in China, Japan and South Korea are of high carbon footprint, which is seriously inconsistent with the actual situation.
03 Analysis of Carbon Reduction Path of EV Batteries
In 2019, CATL invested a lot of manpower and resources to set up the company's sustainable development committee to comprehensively study and sort out the carbon footprint of products. It has been found that the emissions of battery production companies, that is, emissions from scopes 1 and 2, only account for about 15% of the carbon footprint. The carbon footprint of battery products mainly comes from scope 3, that is, carbon emissions from the upstream.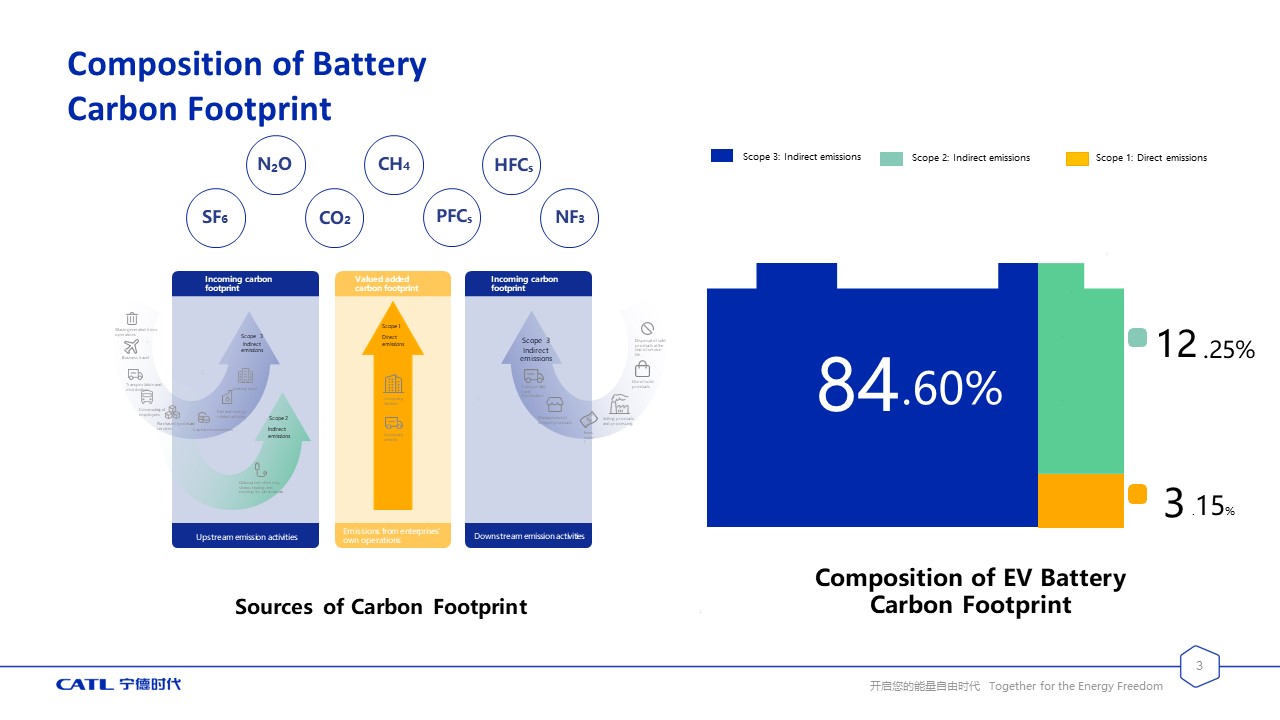 Even so, we manage to shoulder the responsibility and conduct a comprehensive study on how to achieve carbon reduction in the whole life cycle. We have carried out a lot of work for this, covering M2C (Mine to Commodity), C2R (Commodity to Raw materials), R2C (Raw materials to Cells) and C2P (Cells to Packs). Our goal is to provide customers with products that not only have absolute advantages in performance, but also boast obvious competitiveness in carbon footprint.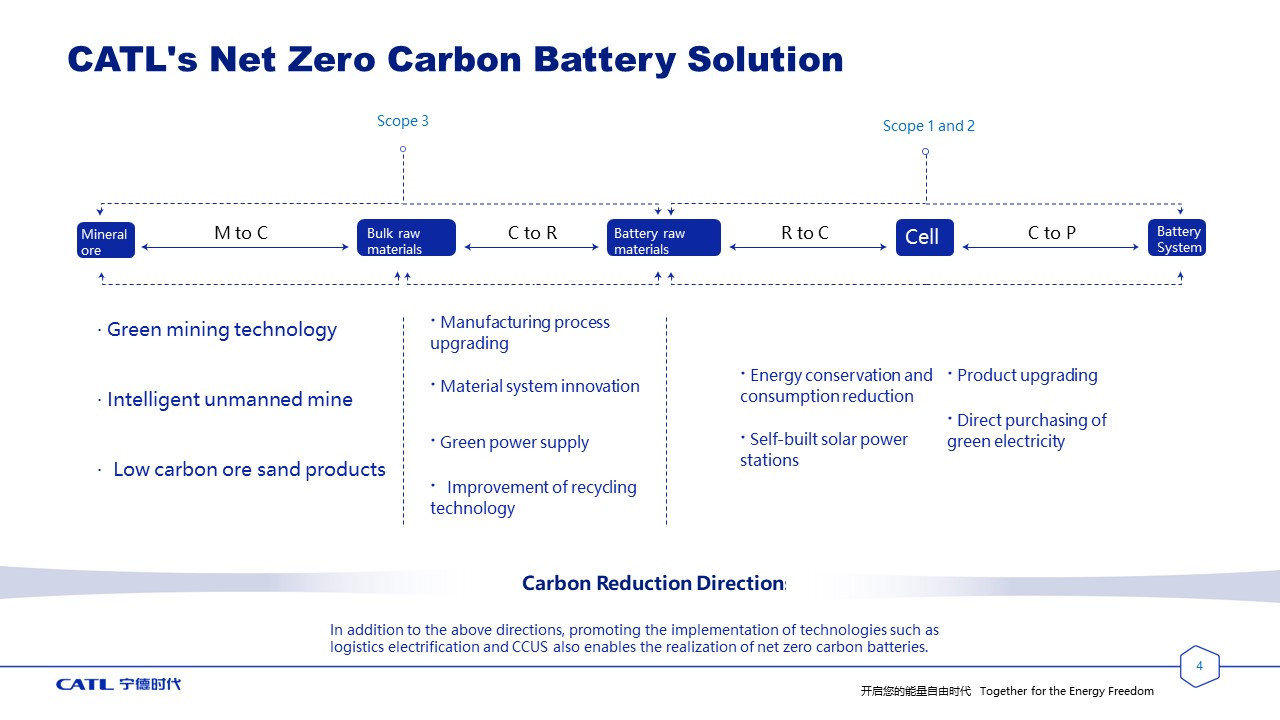 Among the carbon reduction measures, the large-scale use of recycled materials is an important means to achieve low carbonization of batteries. By upgrading the process technology, iterating the separation and purification system and improving the standard of equipment automation, the recovery efficiency of nickel, cobalt and manganese can reach 99.3%, and the recovery efficiency of lithium can reach 90%. In the first half of this year, we recovered more than 20,000 tons of used batteries and produced more than 18,000 tons of precursors with these used batteries.
Based on the sources of the carbon footprint of batteries, most of the carbon footprint can be reduced through measures such as the use of green power and large-scale recycled materials, energy conservation and consumption reduction, and technological process upgrades. Combined with partial carbon sink offsets, these measures can help achieve net zero-carbon battery, but it requires in-depth understanding of the entire industrial chain and a strong control over it.
To promote the development of green batteries, in addition to the efforts of enterprises, the government also needs to introduce guidance and incentive policies, so that consumers and car companies can get tangible benefits when using green batteries. For example, purchasing electric vehicles with low carbon footprint batteries can get carbon credits, or enjoy policies such as purchase tax exemption. It is recommended to study the battery carbon credit policy to encourage the development of green and low-carbon batteries. In addition, the battery recycling policy should be further improved to provide policy guarantees for battery companies to use recycled materials to produce new batteries on a large scale.
Achieving the goal of CO2 emission peaking and carbon neutrality is a solemn commitment China has made to the whole world. President Xi once said: "Plant pears for your heirs. We are the gainers, but we also need to plant for our future generations." Carbon neutrality is the mission we have to undertake. CATL will use the most advanced and lowest carbon products, work together with partners to make outstanding contributions to comprehensive electrification and green and low-carbon transformation.